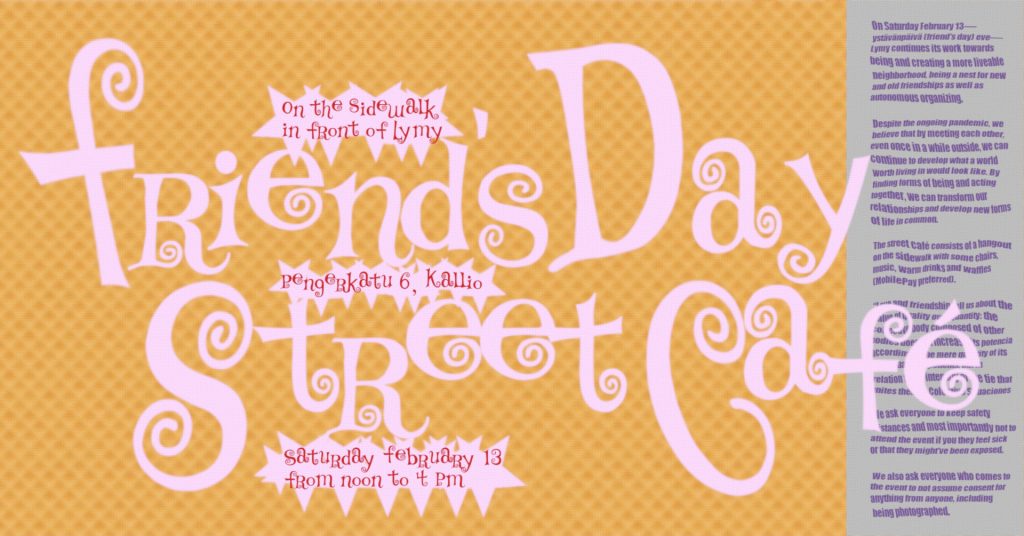 On Saturday February 13 — ystävänpäivä (friend's day) eve — from noon to 16 Lymy continues its work towards being and creating a more liveable neighborhood, being a nest for new and old friendships as well as autonomous organizing.
Despite the ongoing pandemic, we believe that by meeting each other, even once in a while outside, we can continue to develop what a world worth living in would look like. By finding forms of being and acting together, we can transform our relationships and develop new forms of life in common.
The street café consists of a hangout on the sidewalk with some chairs, music, warm drinks and waffles (MobilePay preferred).
"Love and friendship tell us about the value of quality over quantity: the collective body composed of other bodies does not increase its potencia according to the mere quantity of its individual components, but in relation to the intensity of the tie that unites them." – Colectivo Situaciones
🧇🧇🧇🧇🧇🧇🧇🧇🧇🧇🧇🧇
We ask everyone to keep safety distances and most importantly not to attend the event if they feel sick or feel that they might've been exposed.
We also ask everyone who comes to the event to not assume consent for anything from anyone, including being photographed.